Service Improvements
For protecting peoples' livelihood and economic activities.
The Tokyo Trucking Association (TTA) aims to improve the freight transport service and management infrastructure of trucking operators by providing support to both service users and service providers.
For Ensuring Safe Freight Transport and Orderly Service
Providing orderly freight transport service requires the elimination of inhibiting factors, including overloading and driving under exhaustion, which are also causes of traffic accidents. Trucking operators must be appropriate truck transport businesses that comply with the laws and ordinances. TTA, which strives to be a good partner of trucking operators, carry out an array of activities for ensuring safe freight transport and orderly service, as the organization designated by the Government for promoting proper trucking safety practices in Tokyo.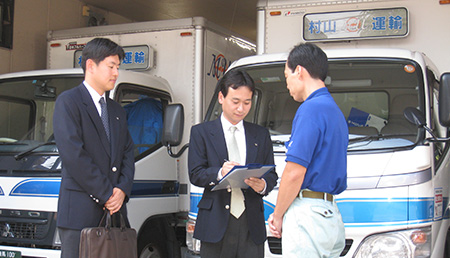 Compliance officers visit trucking operators to ensure they have safe freight transport practices
Primary Work of Compliance Officers:
Making visits to the trucking operators and offering guidance
Overloading prevention measures
Street patrols
Safety inspections
Workshops for new trucking operators
Consultation Services for Tokyo Residents and Service Users
Freight transport consultation centers are permanently established in 30 locations in Tokyo so that anyone can ask questions or for advice on freight transport. For free of charge, the centers offer consultation services and accept inquiries about anything related to freight transport services, ranging from moving companies to parcel delivery services.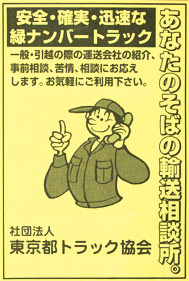 Freight transport consultation centers are established at the headquarters and branch offices.
Safety Evaluation of Trucking Operators
An organization designated by the Government for promoting proper trucking safety practices on a national scale justly evaluates and certifies the safety of trucking operators, and awards a seal of accreditation (represented by the letter G) to operators which have met a certain level of safety standards. TTA promotes the acquisition of the seal of accreditation, and strives to increase operators' awareness about safety.
Seal of accreditation representing businesses that have outstanding safety standards
The seal serves as evidence that businesses have proven to meet safety standards, and is provided only to businesses that have received high marks on safety. The "G" is taken from the first letter of the words "Good" and "Glory."