Traffic Safety Initiatives
Towards zero traffic accidents.
The Tokyo Trucking Association (TTA)'s member businesses and drivers work together to carry out trainings and awareness-raising campaigns with the goal of preventing traffic accidents.
Model Branch Offices for Accident Prevention
TTA designates model branch offices for accident prevention, which prioritize the implementation of accident prevention measures that are suited to each community. The achievements are presented at accident prevention forums. By sharing this information, these activities contribute to the prevention of accidents throughout the entire city of Tokyo.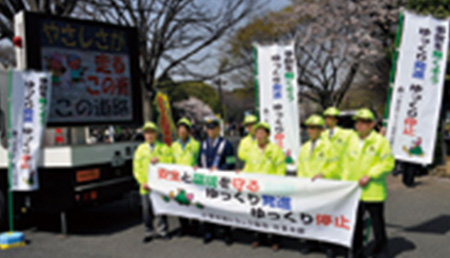 Street activities implemented at various locations in Tokyo
Holding of Workshops
TTA holds a variety of workshops to increase the know-how and capacities related to traffic safety, traffic pollution prevention, and other matters, which are geared for drivers and administrators, etc. who belong to TTA's member organizations.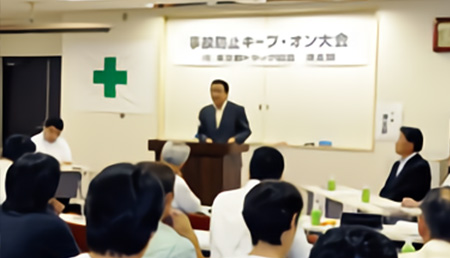 Keep On Preventing Accidents Meeting
Accident Prevention Meeting
A large-scale traffic accident prevention meeting is held every year. TTA makes efforts to spread know-how on traffic safety by providing presentations on accident prevention activities, inviting academics to present lectures, among other activities.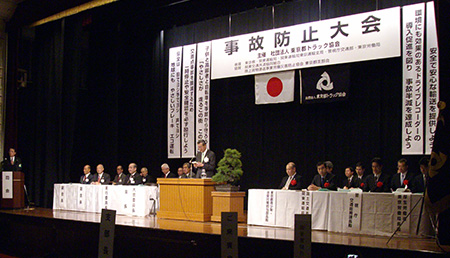 Accident Prevention Meeting
Drivers' Contest
In order to increase drivers' awareness about traffic safety and instill in them a sense of recognition and pride as professional drivers, TTA holds drivers' contests which serve as a barometer for increasing the driving skills of drivers. The top-scoring drivers enter the national truck drivers' contest and aim to become Japan's number one professional driver.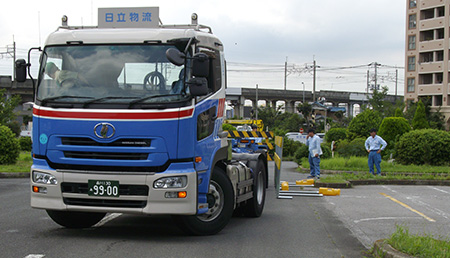 Drivers' Contest Practical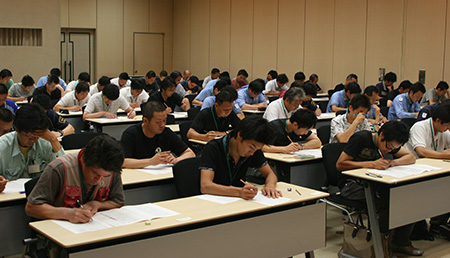 Academic
Community Accident Prevention Activities
TTA identifies traffic safety and accident prevention activities as one of the priority measures and carries out an array of accident prevention activities. TTA's branch offices conduct community-based traffic safety activities, including traffic safety campaigns, safety classes held jointly with local governments and communities, and daily traffic safety-promoting activities at intersections, as well as undertake safety awareness-raising initiatives.
Spreading Knowledge about Traffic Safety
TTA makes efforts to spread knowledge about traffic safety, including through education committees, by giving newly enrolling first grade elementary school students in Tokyo a shitajiki (a plastic sheet placed under a sheet of paper for writing to prevent marking on the sheets below) that has a traffic safety theme as well as actively participating in community traffic safety classes.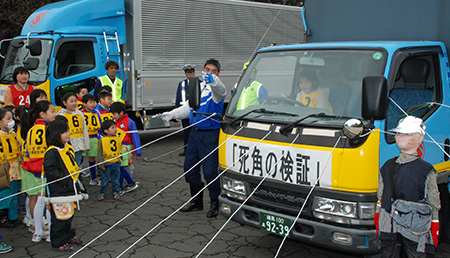 Traffic safety class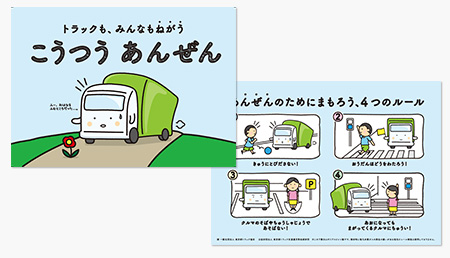 Traffic safety shitajiki
Joint Street Activities
TTA's branch offices implement community-based traffic safety activities at various locations in Tokyo. During the spring and fall national traffic safety campaigns, TTA's headquarters and branch offices join together to carry out joint street activities which share a uniform style across all participating members. By expanding the scope of activities and increasing the visibility of accident prevention activities, TTA strives to further increase their effectiveness in preventing traffic accidents.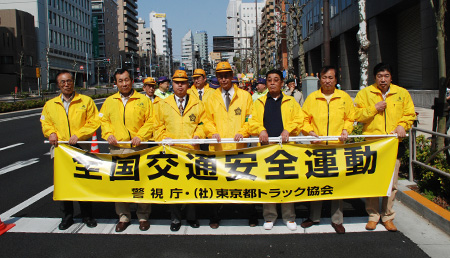 Traffic safety campaign
Initiatives for Eliminating Intersection Accidents and Drunk Driving
Intersections are danger zones. Eliminate intersection accidents by confirming safety by stopping temporarily and pointing with finger.
Recognizing that half of the fatal accidents involving commercial trucks in Tokyo occur at intersections, TTA has formulated policies for the prevention of intersection accidents. TTA is warning truck operators and drivers that intersections are danger zones, and is urging them to enforce the practice of stopping temporarily when turning right or left and ensure that safety is confirmed by "pointing" and "calling." In addition, with the achievement of the three-year plan to halve accidents by 2009 as a step forward, TTA is continuing to advance measures to eliminate drunk driving for the further prevention of traffic accidents.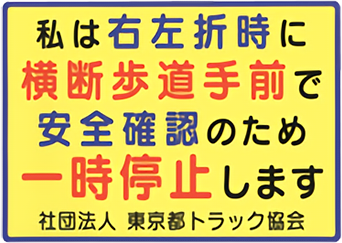 Sticker urging drivers to stop temporarily