Management Stability Initiatives
For protecting peoples' livelihood and economic activities. The Tokyo Trucking Association (TTA) aims to improve the freight transport service and management infrastructure of trucking operators by providing support to both service users and service providers.
Shippers' Meeting
In order to respond to the needs of shippers seeking more efficient, sophisticated, and diverse freight transport practices and to provide better freight transport services, TTA repeatedly exchanges information and meets with shipper companies, which in turn contribute to the improvement of the freight transport business.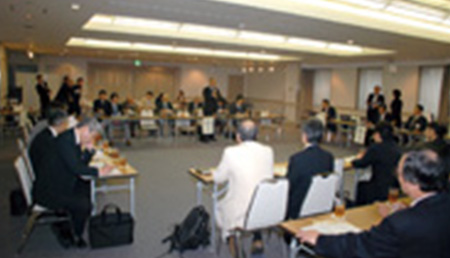 Shippers' Meeting
Enhancement of the Working Environment
In order to ensure that the workers of TTA's member organizations maintain or improve their health as well as manage their health, TTA has enhanced programs that help to promote routine health exams and measures to cope with occupational illnesses. TTA has also undertaken a variety of measures that improve the working environment, including shortening working hours, preventing work-related accidents, and offering labor counseling services for businesses. As a welfare program, TTA has set up the Tokyo Trucking Association Health Counseling Center (24-hour telephone hotline), which allows workers of TTA's member organizations and their families to easily seek the advice of experts on questions related to mental and physical health. Information is also provided on the recreation facilities with which TTA has a contract and which may be used during weekends and holidays.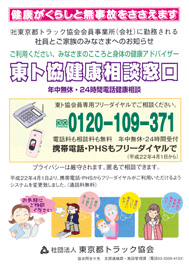 The Tokyo Trucking Association Health Counseling Center receives questions by telephone 24 hours a day, 365 days a year
Exchanges with Overseas
TTA carries out overseas visits and overseas studies in order to understand the situation of the globalizing distribution industry and to acquire know-how. TTA also addresses the needs of foreign stakeholders who visit Japan. TTA promotes the acquisition of the ISO9001 certification to meet world standards.
For Business Development
Relevant programs include: human resources education, such as trainings that are in line with the needs of the times; provision of information useful for informatization and for improving the efficiency of management; and interest subsidy programs and loan programs through the Modernization Fund aimed at promoting the modernization of businesses. TTA provides multidimensional support for the business management of TTA's member organizations, and supports the development of the trucking business as a whole.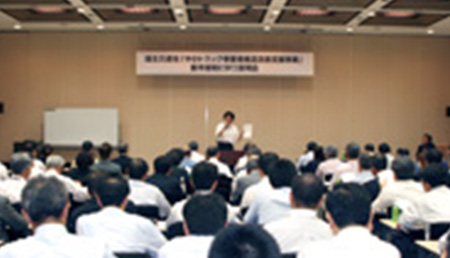 Information session on supports provided for the structural improvements of small and medium trucking operators