Environmental Initiatives
For the preservation of nature and cleaner air in Tokyo.
The Tokyo Trucking Association (TTA) implements a variety of environmental initiatives through the use of low-emission vehicles, promotion of eco-driving and other activities.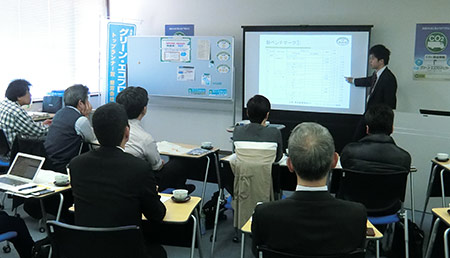 Green-Eco Project seminar
Promotion of Eco-Driving
Eco-driving is a "driving method of reducing the fuel consumed in driving" by refraining from sudden starts, sharp acceleration, and sudden braking; avoiding vehicle overload; driving at economic speed; ensuring tires are pumped to the correct pressure; and other ways. It is an essential activity that forms the basis of environmental initiatives. Eco-driving is effective on the three fronts of the "environment," "management," and "safety" in cutting NOX and PM emissions, reducing fuel cost, and promoting safety management and preventing accidents.
In order to ensure that truck drivers adopt eco-driving habits, TTA carries out various awareness-raising initiatives. Among them is the Eco-Driving Promotion Pocketbook, which TTA distributes to truck drivers to promote driving that is mindful of the environment and safety.

Green-Eco Project participation sticker
Environmental Management/Green Management Certification ISO14001
TTA provides assistance for holding information sessions on the Green Management Certification system and the acquisition of ISO14001, which certify transport businesses that promote a certain level of environmentally friendly management.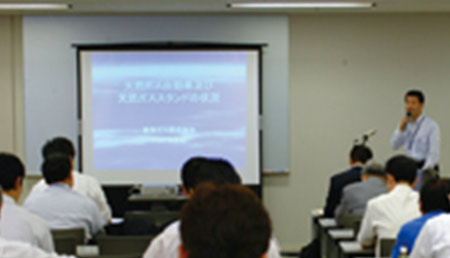 Information session on Green Management Certification
Energy Conservation and Global Warming Prevention Initiatives
TTA strives to reduce fuel consumption and CO2 emissions by ensuring that drivers stop idling during loading and unloading as well as during rests, and by promoting the installation of auxiliary apparatuses, such as heat storage mats, air heaters, and parking coolers.
Furthermore, in order for the trucking industry to take voluntary, comprehensive, and planned responses for reducing the environmental burden, TTA undertakes a variety of initiatives based on the Japan Trucking Association's Environmental Basic Action Plan Promotion Manual.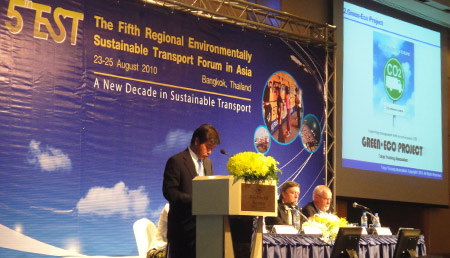 CO2 reduction initiatives being presented at an overseas event
Low-Emission Vehicles and Vehicles Satisfying the Latest Emission Standards
TTA promotes the replacement of traditional trucks with environmentally-friendly low-emission trucks (eco-trucks) and trucks which satisfy the latest emission standards through systems of subsidies and loans, etc. for their adoption and purchase, respectively.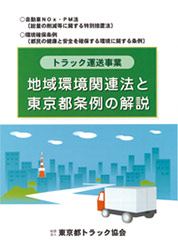 CO2 reduction initiatives being presented at an overseas event
Promotion of Green Distribution
In order to alleviate the road traffic in the city, the joint freight delivery system, which combines deliveries made by several trucks into one truck, was realized with TTA's help in Shinjuku's high rise building area and the Marunouchi office area, in cooperation with the Tokyo Metropolitan Government. In addition, TTA encourages companies to shift from using their own trucks for deliveries to using the trucks of professional freight carriers, and advances measures to further improve the transportation environment.
Green-Eco Project Initiative
The Project has achieved CO2 reductions equivalent to the amount annually absorbed by approximately 1.6 million cedar trees.
Through the Green-Eco Project, participating businesses themselves endeavor to realize environmental improvements by shifting from passive to active environmental initiatives primarily through sustainable eco-driving activities, while also promoting: (1) Global warming prevention and energy conservation by improving fuel consumption (reducing CO2 emissions); (2) Traffic safety by reducing accidents; (3) Cost cutting by reducing fuel consumption and repair costs, etc.; and (4) Company initiatives, including the collection and analysis of fuel consumption data in response to the revised Energy Saving Act and drivers' education using the data as well as the acquisition of Green Management Certification. The Project aims to increase the greening capacities of each business establishment, and furthermore, increase "green" awareness and promote corporate environmental responsibility (improve management by promoting a cleaner environment) through the social contribution and social responsibility activities of each and every manager, administrator, driver, and worker.